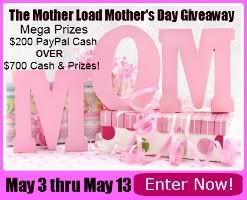 Welcome to the Mother Load Mother's Day Giveaway Event, hosted by Mompreneur Mogul & Mom Blogger Buzz!
One Mom will win over $700 in Prizes!
Prizes: Over $700 in cash and prizes. Here are some bullet points but for photos and a detailed list vist : Mother Load Prize Details
Albertson Gift Basket $200 Value
Blog Redesign $140 Value
Beautiful Natural soap Gift Basket
Coffee /Tea Gift Pack
$200 Paypal cash click link below for photos and more details
I declare charms $55 dollar value
We would like to thank the following sponsors and bloggers without them this amazing giveaway would not be possible:
Mompreneur Mogul, Mom Blogger Buzz, Giveaway Promote, Keep the Tail Wagging, Home Cooking Memories, Sarah Dawn Designs, Swoon Media, RockStarMom Las Vegas, Blogaholic Designs, Blogaholic Social Network, Domestically Speaking, Measuring Flower, Mommy Who Loves Giveaways, Dawns Delights Art, Red Tag Mama, The Vagabond Studio, Just Joanna, Life as Leels, Irish Italian Blessings, Frugal Ferret, Flabby Fashionista, Giveaway Bandit, Coupon Savvy Sarah, The Beauty of it all, Mom Saves Money, The Crazy Coupon Shopper, Jenns Blah Blah Blog, Tidbits From A Mom, Shopaholic Mommy, Top Vacation Spots, Simply Shawn & Jenn
Enter to win via the rafflecopter entry form below. Giveaway ends May 13th 11:59 pm EST.  Winners will be notified immediately after the event ends by email you will have 48 hours to respond or another winner will be chosen in your place. This contest is open to US residents ONLY. Must be 18 or older to win with a paypal account to claim cash prize.
DISCLOSURE: Some of the prizes are based upon availability, for example the Albertson's gift box will contain $200 worth of items but if they are out of a particular item they may replace that for something else. You can read more on the prize detail page listed below. Mompreneur Mogul is in no way responsible.
Photo Credit: 123RF Stock Photo
The following two tabs change content below.
Melanie Kampman is a web designer, developer and owner of Giveaway Bandit and Farm News for Kids. She lives in Northwest Missouri on a large family farm with her husband and eight year old son, the Giveaway Bandit. They raise cattle with a variety of pets including horses, chickens, ducks, and a slew of cats. By Melanie Kampman If you are interested in writing a sponsored post on Giveaway Bandit please email me at melanie (at) giveawaybandit (dot) com.
Latest posts by Melanie Kampman (see all)